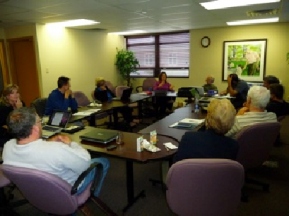 Richard Long is available to visit your city to encourage your team as you seek to reach your city for Christ. Mid-week consultations are the normal approach, but we are able to schedule some Saturdays and Sundays. We also are experienced at leadership summits and retreats having led many over the years from coast to coast.
We offer the following topics for insight and discussion.
City Reaching Foundations: See the 5 topics on this website under "Foundations"
Unity: Nicety or Necessity: –The reason said we must make every effort to have unity.
Unity must have a Purpose: An exploration of the biblical basis for unity that arises out of Jesus' prayer in John 17.
Healthy Dynamics for a City Church Team: Insights into the kind of personnel, gifting and interactions needed for a successful long term team.
Multiplying the Impact through Multiple Teams: How to gather new leaders into efforts built around their mutual passions.  What makes a good team that can go the distance?
Everything is Local: An argument for city transformation that looks at how and why the gospel must impact every neighbourhood.
Getting Heaven's Direction and Back-Up: How to facilitate corporate listening dynamics among the spiritual leaders of your city to gain the supernatural power you need.
Prayer that Changes a City: A summary of 75 ways that you can see your city saturated with prayer.
Hurdles and Hindrances: A discussion based on our research, about the common challenges every city-transformation effort will face.
This is a short list. See our blog for the ongoing discussion about these and many more topics that we can cover.
Call us about visiting your city at our office 613-824-4905, or emailrichard@togethercanada.ca.