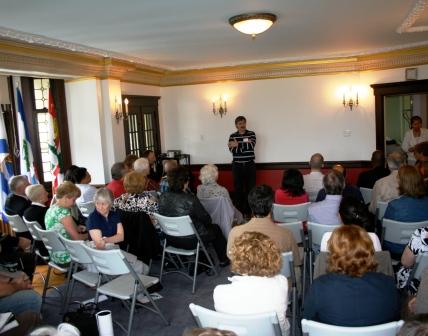 Richard and Terry Long have extensive experience in training congregational prayer teams, city intercessory groups and other organizations. They served for 5 years as Associate Directors for the National House of Prayer in Ottawa weekly training and leading prayer teams from across the nation from 2006 to 2011. In that role they often taught on weekends in congregations all across Canada. Richard and Terry have been involved in raising up city prayer teams since the early 1990's. They have led a number of national initiatives to raise up prayer for special challenges that have arisen in Canada in the last decade. Richard also serves as an advisor to a number of national and regional prayer ministries.
In the last few years Richard has traveled to YWAM bases to do week-long training of YWAM leadership teams in the Caribbean. He has developed many new and creative methods of inspiring people to pray, while drawing on the great traditions of the Church throughout the centuries.
Here are a few of the many topics that can be taught …
Becoming a House of Prayer: An overview of the lifestyle of prayer that we believe every disciple of Jesus Christ can incorporate into their life.
Praying with Authority: The basic scriptural principles that Jesus taught about how to be heard in Heaven and see results on earth.
Increasing in Authority: A deeper investigation and equipping in the effective life of prayer
Handling Your Sword: Learning how to use the Scriptures in your prayers requires an essential understanding of the Word of God. A full overview of the types of literature and variety of prayers in the Bible is covered in this session. (A more developed course of 10-12 sessions has also been taught numerous times.)
Saturating Your Community with Prayer: This session enumerates at least 75 different ways that you can cover and undergird your city with corporate prayer.
The New Urban Monasticism: Having been a part of a prayer community for 5 years recently, and in consultation with other prayer communities that are rising up, this session allows Richard and Terry to share practical principles about how to launch and sustain a House of Prayer or other forms of the new urban monasticism.
Call us about visiting your city at our office 613-824-4905, or emailrichard@togethercanada.ca.